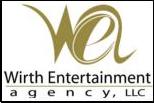 Biography

With a steller cast, Sandy Hackett's Rat Pack Show features performances by Sandy Hackett (Joey Bishop), a powerhouse veteran writer, producer and film & TV actor; his wife, singer/songwriter/producer and daughter of Ron Miller, Lisa Dawn Miller (Frank's One Love); David DeCosta (Frank Sinatra); Doug Starks (Sammy Davis, Jr.); and Tony Basile (Dean Martin). The led by Maestro Christopher Hardin and Conductor/Pianist, Joey Singer.

Home ● Contact Us ●National Acts ●Comedians ● Orchestras ●Tribute Acts ●Regional Acts ●Specialty Acts ● Our Company ● Website Feedback ●Links
Wirth Entertainment Agency, LLC, acts only as an entertainment broker/producer of corporate functions, commercial venues, private engagements and special events.
Wirth Entertainment Agency, LLC does not claim or represent itself as the exclusive agent or management of most artists on this website.
Copyright © 2003-2014 Wirth Entertainment Agency, LLC
Last modified: 04/21/2014