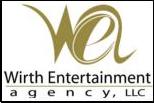 The Ultimate Garth Brooks Tribute
featuring Shawn Gerhard
Biography

Inspired by Garth Brooks in the 90's. Shawn grew up singing along with his radio to his favorite Garth tunes. He cultivated his silky-smooth vocals while performing in numerous venues throughout the United States. Shawn has shared the stage with countless recording artists like "Brooks & Dunn, Alan Jackson, Martina McBride and many more. Shawn has performed in venues all across the United States, and continues to make fans wherever he goes. Shawn has an addicting personality about his persona, that makes him who he is. Above all else, is a huge passion for music. That being said, Garth Brooks was his biggest influence in music growing up. What better performer to emulate. His music continues to inspire!!
Home ● Contact Us ●National Acts ●Comedians ● Orchestras ●Tribute Acts ●Regional Acts ●Specialty Acts ● Our Company ● Website Feedback ●Links
Wirth Entertainment Agency, LLC, acts only as an entertainment broker/producer of corporate functions, commercial venues, private engagements and special events.
Wirth Entertainment Agency, LLC does not claim or represent itself as the exclusive agent or management of most artists on this website.
Copyright © 2003-2014 Wirth Entertainment Agency, LLC
Last modified: 04/20/2014